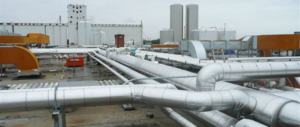 Dean E. Norris, Inc. has made a big impact in the Wichita and Kansas market throughout the last 44 years in business. We have provided the ultimate customer experience through heating, air conditioning, plumbing, refrigeration, custom metal fabrication, and Building Information Modeling (BIM) in both commercial service and construction. The industries we serve include waste water treatment plants, manufacturing and industrial facilities, office buildings, hospitals, and churches. Our customers are our number one priority, so we provide them a timely response and completion by delivering value and utilizing their funds to their advantage.
Timely Response
In 2012, one of our largest customers, Spirit AeroSystems, experienced substantial destruction from a tornado and we were able to respond very quickly to their needs. Our team was involved in the storm recovery on April 12, 2012, and we responded immediately to their needs to get production running in just ten days. We had crews working twenty four hours a day for the ten days to make sure the goal of operating at full production was met by April 23, 2012. Because of our fast response time and understanding of their needs, we have continued this long-standing relationship.
Delivering Value
Communication is a big factor for our customers, so keeping them informed on their project and service is important in keeping their operations in production. A customer told us, "The technicians check-in when they arrive and inform me about what work was completed before they depart. Your company provides quality work and effective communication." Our company believes in good, quality work at a good value.
Utilizing Your Funds
When a customer has a budget, we stay within that budget. As a mechanical contractor, we can help alleviate costs by keeping their mechanical systems consistently maintained by minimizing breakdowns. In conjunctions with our customers, we provide the best mechanical solution at the best cost.